Miss Spider's Sunny Patch Kids
Written by David Kirk
Illustrated by David Kirk
Reviewed by Jesse S. (age 8)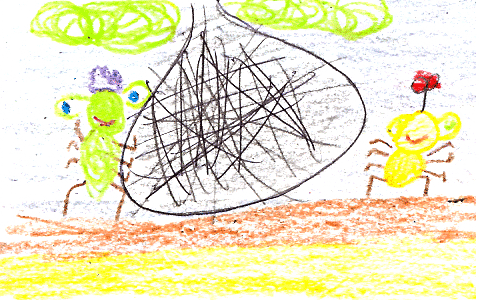 One morning two spiders named Mr. and MissS pider had babies that were about to hatch. Then Brother Gus said excitedly that the kids were here. Everybody was so happy. They named the babies Squirt, Pansy, Snowdrop, Wiggle, and Spinner. When the were playing Squirt found an egg. He went to find the egg's mother. Along the way Squirt ran into Grub and a mother snake. They both told him the egg did not belong to them. He also made friends with Dragofly, Shimmer, and Bouce who were looking for someone to be their mother. In the end Miss Spider found Squirt, Squirt found the egg's mother, and the three new friends found a mother.
My favorite part was when all of Miss Spider's babies hatched because everybody was happy. My least favorite character is Snake because she wanted to eat the egg. This story relates to my life because it's important to have a family. The pictures help tell the story.
I think others should read this story because it is about families and because it's important to love your friends and family.