The Magic Finger
Written by Roald Dahl
Illustrated by Tony Ross
Reviewed by Ryan E. (age 7)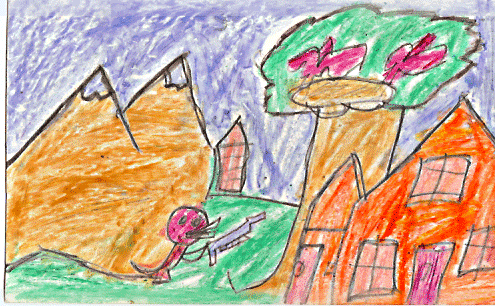 The Magic Finger is about a girl with a magic finger who casts spells when she gets angry. The girl gets mad when Mr. Gregg hunts a deer. Mr. and Mrs. Gregg and their two sons turn into birds after they shoot ducks. The children fly out the window. Then Mr. and Mrs. Gregg fly out after them. The ducks go and steal the Gregg's home. They point guns at the whole Gregg family while they are up in a tree. In the end, the ducks do not shoot and the Greggs turn back to normal because they promise not to shoot animals again.
My favorite part is when the Greggs turn into ducks and the girl gets angry because they deserve it. My least favorite character is Mrs. Gregg because she does not do as many things in the story as Mr. Gregg. This story relates to my life because I don't like to kill animals. The story has pictures that help explain what's going on. They show the ducks flying and what the Gregg family looks like with wings.
You should read this book because it is funny when the Greggs turn into ducks. Also it teaches people not to hunt animals.