Bubba the Cowboy Prince
Written by Helen Ketteman
Illustrated by James Warhola
Reviewed by Kurk H. (age 7)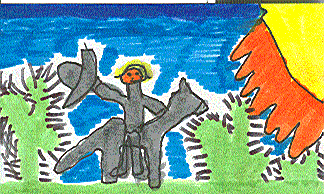 Once on a cowboy ranch a rancher named Bubba loved a rich woman in Texas. He had two stepbrothers named Milton and Dwayne. He had one wicked stepdaddy. The rich woman's name was Mrs. Lurleen. She threw a cowboy dance ball and everybody was invited! Bubba didn't go because he thought he was too ugly. His fairy godcow turned him beautiful, but the magic ran out. Would it matter to Mrs. Lurleen? Would they live happily ever after?
I liked this book because it was one of my teacher?s books that she read to the class. I got the book so that I could see the pictures closer up - they are really good pictures! I like the way Bubba and his stepdaddy look. They are very realistic pictures. For example, by "ugly" I meant that you could see dirt stains on him. Another thing I liked about the book was that it was sort of like an I Spy book - the fairy godcow is hidden on every page but one, and you get to search each page looking for her. The story sort of reminded me of Cinderella because of the wicked stepmother and stepsisters. Instead of a girl dancing with a man, it was a man dancing with a girl . . . it was sort of backwards.
I would recommend this book to kids that like cowboys. I think kids in preschool would especially like the book because those kids usually like cowboys and cows, and they would like what this book is about. I think they would like the pictures, too, because they are very realistic and fun to look at.