Mrs. Frisby and the Rats of Nimh
Written by Robert C. O'Brien
Illustrated by Zena Bernstein
Reviewed by Sydney V. (age 8)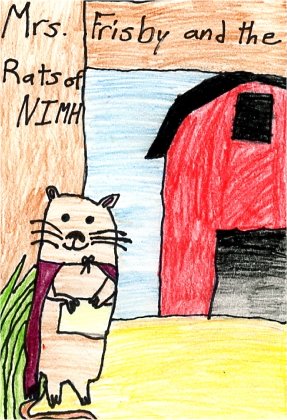 This is an amazing book. Mrs. Frisby must move her winter house to the lee of the stone before Mr. Fitzgibbon plows the field. This must be done because her son Timothy is ill and cannot move to their summer home for some time. Mrs. Frisby asks the rats on the farm for help. These rats are very smart. The live in an underground cave that has a library stacked with books and a workshop filled with tools and machines. Mrs. Frisby asks the rats Nicodemus and Justin for the help she needs. They come up with a great plan. She also learns how these rats became so wise. WIll they move Mrs. Frisby's house in time? Will the plan work? Why are these rats of NIMH so special? Read Mrs. Frisby and the Rats of NIMH to find out.
I think this book was great because it was amazing and I love amazing books. I think Justin was a nice and helpful rat because he was nice to Mrs. Frisby's children. This book is unique because it was written about rats and there are barely any books written about rats. Also, the rats are very smart characters. As I read the book it made me feel like we should help each other like the rats did in the book.
I would recommend this book because it is fantastic and an excellent book. I think 3rd graders through 6th graders should read this book. This is a very interesting book because it is full of good and bad surprises. I love this book.