Ramona The Brave
Written by Beverly Cleary
Illustrated by Alan Tiegreen
Reviewed by Jake M. (age 8)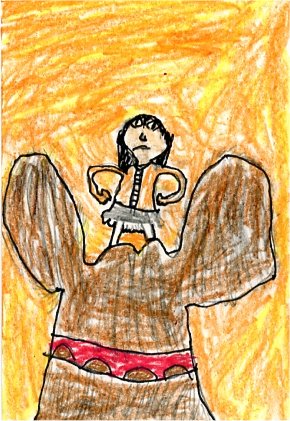 The main characters are Ramona, Beatrice and the dog. Ramona gets in a fight with a dog and throws her shoe at the dog. Then Beatrice came and stopped the fight. In the beginning of the book Ramona called her sister Beatrice by her nickname 'Beezus" in public which she wasn't supposed to do. The sixth graders made fun of her sister and called her "Beezus Jesus." Ramona said, "Don't take the Lord's name in vain," and Ramona was teasing the big kids. This was embarassing to her sister Beatrice. Then Beatrice went in Ramona's room and sat on her red crayon and broke it because she was mad at her. Will the sisters be friends and get along again? Read the book to find out.
I like this book because it is funny and interesing. Ramona does funny things in this book because she is a pest. Beatrice reminds me of my brother because he always calls me a pest and says, "Listen to your elders" because he is older than me. I don't really like it when he says that! This book is like another book I've read about fish where all the fish picked on each other all the time. Beatrice and Ramona pick on each other in this story too.
I would recommend you read Ramona the Brave. I think that 4th and 5th graders should read this book because it has challenging words.