The Bunny Hop
Written by Teddy Slater
Illustrated by Larry Di Fiori
Reviewed by Nahida B. (age 7)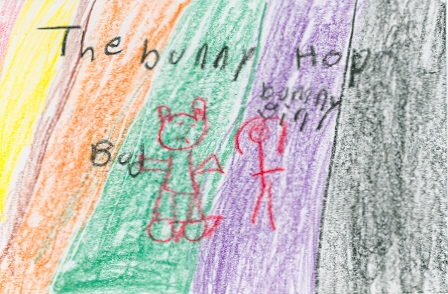 Bud, a bunny, was dancing and then he stepped on two or three bunny girls? toes. The girls said you can?t dance with your big feet. Bud was crying. Then, Bud heard a loud noise inside another dance hall and then he waited on line to the back of the line and went to the front of the line to do the bunny dance. And he knew how to dance. Then, he said look at me I know how to dance.
I enjoyed this book. But, I felt bad for Bud when one, two or three bunny girls said you can?t dance, you have big feet. I think the bunny girls should dance with Bud because the bunny girls know that Bud is going to cry and other people will also be sad. If I were the bunny girls, I would not care and I would dance with Bud. I enjoyed this book because it was interesting and surprising.
I would recommend this book to anyone that does not like funny books because this book is not funny at all. Instead, this book teaches lessons. If you want to learn good lessons or if you are a teacher and want to teach good lessons then read this book.