The Magic Tree House: Ghost Town at Sundown
Written by Mary Pope Osborne
Illustrated by Sal Murdocca
Reviewed by Daniel M. (age 8)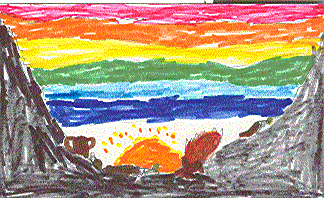 One day Annie and Jack were sitting on the porch. Annie thought she would check Frog Creek Woods again. They saw their friend Morgan le fay waving from the Magic Tree House. Time to solve another mystery! This time they go to the Wild West. They get to meet up with Lonesome Luke, who is a ghost, and a mustang. They also meet Slim, a cowboy, who first thought that Annie and Jack were horse thieves! Slim finally begins to work with Annie and Jack and help them solve the mystery.
I did like this book - it was very good. My favorite part was when Jack and Annie saw Slim's name on the book. I liked that part because it was really interesting. It surprised me that Slim had written the book! My favorite character was Jack because he is trying to be brave. Even when he fell off the horse he got right back up. He was about to duck for cover because the real horse thieves were chasing him, but because he was brave, he got away. All the mysteries in this series - The Magic Tree House - are really interesting because they can go back in time and see all the cool stuff that we can't see.
I would recommend this book to first graders - anybody who's six or seven would like this book. I think they would like the book because it has interesting facts about exploring other times and solving mysteries. Anybody who likes cowboys would like this book, too, because it has the western time, old western towns, and cowboys in it. People who like adventure would like this book also because it has a good chase in it about the cowboy thieves.