Magic Tree House: Twister On Tuesday
Written by Mary Pope Osborne
Illustrated by Sal Murdocca
Reviewed by Carter G. (age 8)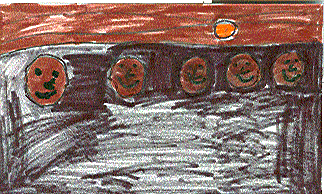 This story is about two kids named Jack and Annie, who have an invisible magic tree house. In this story they go to a prairie and find a schoolhouse. They also meet Kate, Will, and Jeb. While they are at the schoolhouse, a twister comes. It is a very frightening time. After the twister is gone, Jack makes friends with Jeb.
I liked this book because I like the tree house. I think it would be cool to have a magic tree house in the woods by my house. My favorite part was when the twister came because the place they went to for safety was really cool. My favorite character was Jack because he always takes notes. One of the characters - Jack - reminds me of myself because he and I are the same age and we both like adventures.
I recommend this book because they go on adventures. I think people who like adventures would like this book. I think the part where the tree house goes to the prairie would be the part of the story that other people like best. It's really exciting, and it makes you want to read the rest of the book.