Magic Tree House: Dinosaurs Before Dark
Written by Mary Pope Osborn
Illustrated by Sal Murdocca
Reviewed by Anna H. (age 7)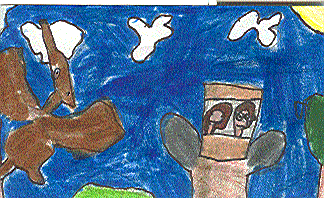 The book Dinosaurs Before Dark is about two kids who are named Jack and Annie. Jack and Annie go to the dinosaur time. There they meet a Pteranodon. A Tyrannasaurus Rex attacks Jack. Annie saves Jack by sending the Pteranodon to save him. The Pteranodon saves Jack by letting Jack ride on his back.
I liked this book because it was Jack and Annie's first time to be in the Magic Tree House. Jack and Annie did not know a lot about the Magic Tree House. This book is like Tonight on the Titanic because they both have Jack and Annie in them. Jack reminds me of my sister Kate because they both like books. I felt good reading this book.
I would recommend this book to second graders and third graders because it is really cool. It's part of the Magic Tree House series, and I like that series. All those books hold my attention. I think the most interesting part to other people would be when Jack gets attacked by the Tyrannosaurus Rex because you just don't know what's going to happen next.