Top Dog
Written by Marcia Jones
Illustrated by Amy Wummer
Reviewed by Emily H. (age 8)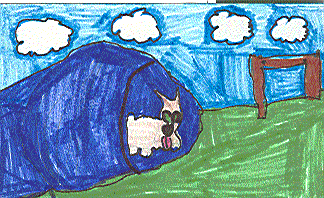 This book is about dogs at Barkley's school for dogs. One day at Barkley's people came with cameras and big lights they were going to pick one dog for a commercial. Every dog wanted to be in it. Sweetcakes, a sweet but tough dog with a half-eaten-off ear, got to be in it. That dog was very wrong for the job.
I liked the book because I love dogs and books so much! My favorite part was when they dressed Sweetcakes in a baby bonnet. I liked it because it was so funny! Sweetcakes got mad and knocked over the cameras and big lights - it was such a ruckus! My favorite character was Jack the puppy. He is so funny and messy.
I recommend this book because I like books! I like this book because it is about a school of dogs - it's very interesting! I recommend this book to people who think they would like to be in a commercial because the book tells what it's like to be in a commercial. The part of the book I think readers would like is when Sweetcakes gets picked but she's wrong for the job, then another dog gets picked. It would encourage people to go ahead and try out for a commercial even if you don't think you'll get picked.