The Trouble with Cats
Written by Martha Freeman
Illustrated by Cat Bowman Smith
Reviewed by Michael G. (age 8)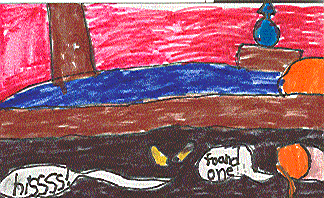 This book is about a girl named Holly with cats that always mess up everything. Holly had a stepfather and soon she went to a new school because she had to live in her stepfather's apartment. Even at the apartment the cats sometimes got in trouble. One time Holly forgot to do her homework because she had to find cats. Another time she found one in the sink. Her cats and the funny things they did sort of helped her make friends at her new school.
I like this book because it has cats in it, and they are pretty funny. My favorite part was when Holly counted cats because she was always finding cats. When I read the book I got so into it that I almost thought I had cats. It reminded me about my old cat because she was always scratching somebody like one of the cats in the book.
I would recommend this book. In fact, I would give it 3 - out of 5 stars. I like this book because it has cats in it, and I like cats. This book is for 1st through 4th graders. I think the part they would like is where Holly was scared to go on the slide. That part of the story makes sense. I think kids would like this book a lot.