Talent Show Scardey Pants
Written by Abby Klein
Illustrated by John McKinley
Reviewed by Kaitlyn K (age 10)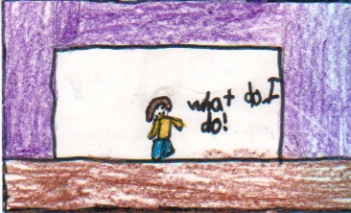 Would you like to be in a talent show? Well Freddy is in one. It started when Freddy was at school and the teacher said that its almost time for the talent show for our grandparents. Did anybody have an idea for them to do? Everyone raised their hand expect Freddy. She told him to go home and tell her tomorrow. Freddy said that he would. When he got home he ate supper and his mom said "What are you doing for the talent show?" He said, "I don't know. The teacher said to tell her tomorrow. We will help you think of something. His Dad said, " I know what you can do for the talent show. You can use Suzie's magic tricks." After supper his dad helped him learn some magic tricks. He learned a lot of tricks. Read the book to find out if he is able to do them for the talent show.
My favorite part was when he found out he was in the talent show. I could not wait until I found out what he is doing for the show. He couldn't sing or dance or play any instrument. I knew he would have to think of something else to do, but what.
Freddy reminds me of my brother. He is like Freddy in a lot of ways. Freddy and his best friend brought a rat in the house. His mom screamed. My brother would bring animals in the house also.
The story is real to me. If we had a talent show I would be just like Freddy. I would be very scared and would not know what to do.
This book is in a series. The series is called "Get Reddy for Freddy." In the other books he has different adventures. I like reading them all.