Jigsaw Jones Mystery-The Race Against Time
Written by James Preller
Reviewed by Trent W (age 9)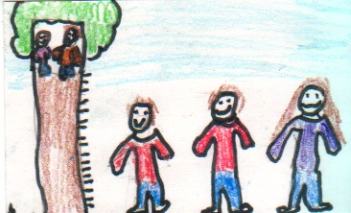 Come on! Do you want to hear about a boy who lost his Dad's watch? Jigsaw's Dad came in the room. He sat down by him and gave him something. It was a watch. The next day he went to school. He showed all the kids his watch. After school he went to the barbershop. The next day he could not find his backpack. That is when it all started. The guy from the barbershop called. He said he found a backpack. He went to see if it was his. When he got there, he looked at the backpack. It was not his. He called his friends to help him find his backpack. He told everyone where to go. No one could find it. So they went to Hoffberg's Playland. Then his dad came to pick him up. He didn't have his watch. Read the book to find outif his watch is found.
I found it interesting when Jigsaw lost his backpack. Someone left a backpack at the same barber shop where Jigsaw was, but it was not his. As I was reading, I wondered what the backpack had to do with the missing watch. My favorite part was reading about how Jigsaw went about looking for his backpack. He became a detective by following the clues.
As I read this book, I felt I was a part of the mystery. I like a story like this that I can try to solve before the end of the book. It is one of a series of books about Jigsaw Jones. These books have all mysteries and they are all different.
I recommend this book for second grade and up. I recommend this book if you like mysteries.