Judy Moody Gets Famous!
Written by Megan McDonald
Illustrated by Peter Reynolds
Reviewed by Eulises L. (age 9)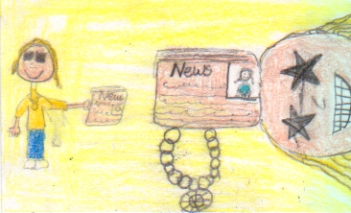 Judy Moody was in the third grade. Her teacher was Mr. Todd. Her friends were Rocky and Frank. Judy wanted to know who was famous. Jessica Finch went to the front of the classroom and showed off her crown because she was the Queen of the Spelling Bee. She got famous by spelling big spelling words. Judy wanted to be famous. Judy said to Rocky and Frank that she wanted to get famous. They saw a sign for the "Famous Pet Contest." Judy wanted to go to the pet contest. She got her pet Mouse. They entered the contest. First place was the piano-playing chicken. Second place was Mouse. Third place was Sally Change. The newspaper man came to take a picture so he could put it on the newspaper. When he took a picture Mouse jumped off her shoulder and the picture was taken, but Judy was not in the picture. Read the book to find out if Judy ever becomes famous. I liked this book because it was really funny. The funny part was when a mealworm flew across in the classroom and over to Jessica. Jessica gets in trouble for what Judy did. Judy feels bad and begins to itch all over. She then tells the teacher the truth.
My favorite part of the story was that when Judy, Stink, Rocky, and Frank tied their shoelaces together and fell down. Judy steps on Frank's pinkie. Judy was sorry because Frank was hurt. The thing unique in this story is that it is not dull. Judy has one exciting thing after another happen to her. The book teaches about doing good. Judy did have lots of adventures. She got in trouble but she always ended doing the right thing.
I recommend this book to 3rd graders and above. The story is funny. Some of the words may be hard, but I think they can handle it.