The Boys Start the War
Written by Phyllis Reynolds Naylor
Reviewed by Jenna B (age 10)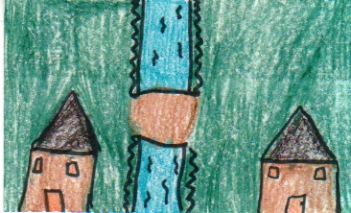 Have you ever waited for new neighbors? The Hatford boys have. They thought three boys would move in. But boy, did they guess wrong! Three girls moved in! The boys tried every prank they could think of to get the girls to move. First they put dead animals in the girls' side of the river. Then the girls put Caroline, one of the girls, in the river pretending she was dead. The boys believed Caroline was dead. When the two other girls were walking to school, Caroline popped out. Man,were the boys surprised! Read the book to find out more about pranks they pulled.
My favorite part was when the girls were on top of the boys?'house making noises. The girls got the boys back for what they did. The boys ran around the house screaming because they were scared. I would have liked to have seen that.
The character I found interesting was Caroline. She wants to be an actress. She was always pretending she was acting in a movie. She did a good job of acting.
Caroline is like my cousin. My cousin wants to be an actress. When she plays, she's acting all the time, just like Caroline. The story reminds me of us. We live across the road from all boys. They spy on us. We spy on them. We get mad at them. They get mad at us, just like a story.
I recommend this book to third grade and up.I recommend this book to third grade and up because its easy to understand and read.