My Mom the Frog
Written by Debbie Dadey
Illustrated by Richard A. Williams
Reviewed by Leah O (age 9)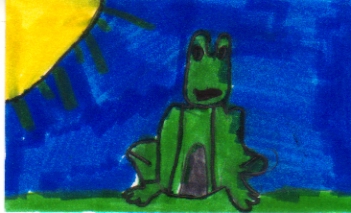 One day Jason had to take the garbage out. There was a little wart on his hand. He screamed "Aaak". His mom was holding the hand with the wart and he said, "Are going to turn into a frog?" Mom said, "No I won't". When he woke-up that morning, his sister, Mary, was in his room. He asked, "Where's Mom?" She said, "She's at work." He ran down the stairs. His dad was eating a bowl of oatmeal. He said, "Where's Mom?" Dad said, "She went shopping." He turned around. There was a frog. His dad saw the frog. He got a broom and pushed it out the door. Jason said, "NO." It was too late. The frog was gone. After Jason finished eating breakfast he went looking for the frog. Jason could't find it. He was crawling on the ground and his neighbor saw him. He said, "What are you doing?" Jason said, "I will tell you if you don't tell." He said, "I won't," Jason said. "My mom is a frog." He started laughing. Jason said, "It's not funny." They found the frog. Read the book to find out if the frog turns into Mom again.
I thought the book was good because I love frogs. The thought of Mom turning into a frog made me laugh. My favorite part was when Jason thought Mom was a frog. He even said the frog looked like his mom.
Jason was funny because he really believed that his Mom was a frog.He was even going to kiss a frog because he thought it was Mom. The story does not remind me of my real life because I know my mom would not turn into a frog and I am glad about that. She will always be just my mom.
I recommend this book to a 3rd grader and up. They would enjoy a story about frogs and warts. I know I did.