Sort of Forever
Written by Sally Warner
Reviewed by Lauren B (age 9)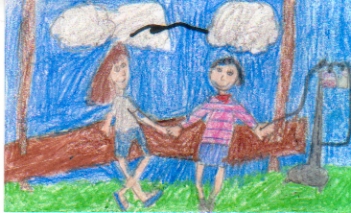 Have you ever had anyone really, really sick in your life? Cady Winton has. Her best friend, Nana Weber, has cancer. Cancer is a disease that can take away her strength, her humor, and even her life. Cady is torn apart.
To make matters worse, it's almost time for them to go to 7th grade. They were both so excited about that. They would get different teachers in every subject! But now Cady has to go alone because Nana is too sick to go to school. Then Cady meets Laura McAllister. She is a new girl at Arroyo School, the school that has girls only. Laura and Cady become friends. But Cady can't tell Nana that she has a new friend. So Cady has to keep it a secret. One day after school, Cady goes shopping with Laura. Nana got really mad at Cady because Cady was supposed to come to Nana's house after school. They had a big fight. What will happen to Cady and Nana? Will they make up? Read "Sort of Forever" to find out!!
I thought the book was a great book. It is filled with adventure, laughs, and some tears.
My favorite part was when Cady and Nana put toilet paper all over the ugliest house in the world on the old vacant lot that Nana and Cady loved. The guy who was building the house had yelled at Cady and her brother, Russell, and made Russell cry! So now they want to get him back with toilet paper!
This book made me feel happy and sad. Nana reminded me of my cousin Brianna, who also had cancer and died from it. She was also kind of funny like Nana. It reminded me of my cousin, and it made me wonder how she was doing. It made me wonder what it would be like if my best friend had cancer. It made me happy because it was such a great book.
I would recommend this book for kids who don't really know what cancer is or who might want to be a nurse or a doctor someday.