Where the Red Fern Grows
Written by Wilson Rawls
Reviewed by Paige B (age 10)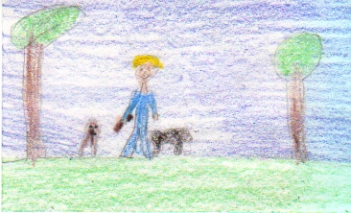 Did you ever want a dog? Billy did! All Billy wanted his whole life was to have dogs to go hunting with. He went and asked his parents if he could have two hound dogs. His parents said, "Yes if you can afford it." Billy went to his grandpa's store and told his grandpa about it. His grandpa found an ad about hound dogs. The hound dogs were in Kansas. So Billy traveled from Arkansas to Kansas, got the dogs. They were a girl and a boy. He named them Little Ann and Big Dan. That night on the way home Billy saw a cougar. The dogs barked at the cougar and the cougar went away. A few nights afterward they went hunting. Ruben wanted Billy to go hunting for the ghost coon. Billy went hunting. He and Ruben started fighting. Ruben got hit in the gut with an ax and died. The family was very sad that Ruben died. Billy was very sorry. Then Billy's Grandfather found an ad about coon hunting. It said that whoever gets the most coons wins! Billy, Dad and his Grandfather decide to go. While they were hunting, Grandfather broke his ankle but wouldn't go to the doctor until they won the prize. They won over $300 and they got a trophy. Little Ann won a prize for being the prettiest dog.
Billy has lots of adventures with Little Ann and Big Dan. Some of them were happy adventures and some were sad. Read the book to find out what happens to Little Ann and Big Dan.
My favorite part of the book is when Billy gets enough to afford the dogs. It reminds me of my dog, Brandy. She fights with our cats and Little Ann and Big Dan fight with the coons. I found Billy interesting because he never gave up for getting $50.
I think there should be another book written by Wilson Rawls about dogs. He is a good author. I thin that kids in 4th grade and higher would enjoy this book.