Old Yeller
Written by Fred Gipson
Reviewed by Tammy H (age 10)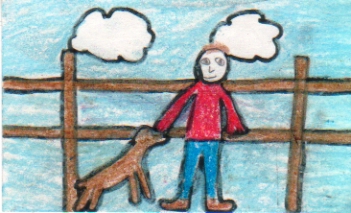 Travis went to the shed to get some meat for his family. He found a dog eating the meat. He fought off the dog, but not before his little brother Arliss came out. Arliss begged to keep the dog for a pet. Of course, Arliss got his wish. Old Yeller made life interesting. He and Arliss were caught many times playing in their drinking water. During a bull fight in which the family's lives were at stake, Old Yeller refused to help. But he did save Arliss's life by fighting off a bear. Travis started to become friends with Old Yeller. To find out what happened and other details, read the book.
As I read this book I was scared and worried about Old Yeller. What was going to happen when they went on the hunting trips and went to mark pigs? I found Old Yeller interesting. He saved little Arliss's and Travis's life. He became friends with Travis even though Travis had been so mean. Old Yeller reminds me of my dog. Just like Old Yeller, Shadow would save somebody in my family from someone who would try to hurt us. "Old Yeller" is like the book "Where The Red Fern Grows" because they are both about dogs that become man's best friends. Old Yeller is friends with Arliss and Travis. Little Ann and Old Dan become friends with Billy.
I would recommend the book to third graders on up because it can be hard to follow. Anybody who likes dogs and scary things would like this book.