Clifford's Thanksgiving Visit
Written by Norman Bridwell
Illustrated by Norman Bridwell
Reviewed by Momina N. (age 7)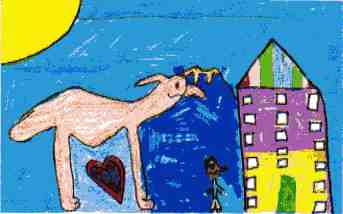 This book is about a big red dog who visits his mom. His name is Clifford and his mom is smaller than him! His owner, Emily goes to visit her grandmother for Thanksgiving. So, her neighbors take care of him. He gets lonely. So Clifford decides to visit his mother. On his way to his mom's house the bridge starts opening under him. It is very scary but he finally finds his mom's house and has a nice supper.
I liked the part when the bridge was opening right under Clifford. I felt scared because I've never seen anything do that. I feel happy when I read this book because I like to celebrate. My family celebrates every Eid and Ramadan.
Emily is my favorite character because we have something in common. We are both girls. This book makes me want to read more "Clifford" books because Mr. Bridwell's writing is easy to read and understand. Does Clifford fall into the water? You better check it out!