Magic Treehouse: Afternoon in the Amazon
Written by Mary Pope Osborne
Reviewed by Angel N. (age 8)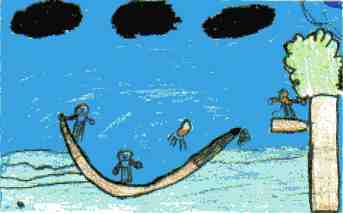 At the end of Magic Tree House #5 Jack and Annie have to save Morgan, the owner of the Magic Tree house, from a spell. They have to get 4 gifts to free Morgan from the spell. In Magic Tree House #6, Jack and Annie go to the Amazon to find the first gift. Jack and Annie have a lot of trouble with a monkey that keeps throwing things at them. They are scared because there are ants, crocodiles, piranhas, and monkeys in the Amazon. The Amazon has army ants. I learned in my class that army ants eat meat. When they are running from the army ants they find a canoe on the bank of the river. Jack and Annie don't know where to look for the gift. Will they get the gift or will they get eaten?
I liked the part where they get to go in a canoe. I want to try going in a canoe because I like to see water and watch the scenery. Mary Pope Osborne makes the story seem real and when Jack and Annie were feeling scared I was feeling scared. My favorite character is Jack. He is a boy and I am a boy. I like that he takes notes and I like taking notes too.
Reading this book will teach you about the Amazon. If you like action, read this book.