Froggy Goes to Bed
Written by Jonathan London
Illustrated by Frank Remkiewicz
Reviewed by Adriana C. (age 8) & Omar R. (age 8)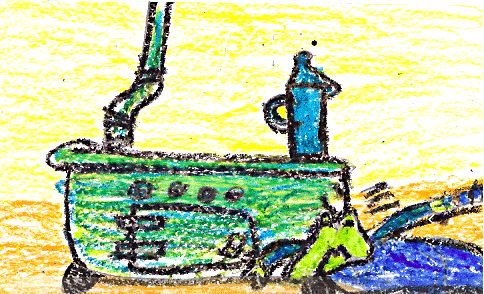 One night Froggy's mom told him it was bedtime, but Froggy wasn't tired. His mom told him to take a bath but he couldn't find his boat. It was in the bathtub. Then he had to look for his pajamas. They were behind the desk. He kept making excuses so he wouldn't have to go to bed. Froggy asked for some water. When his mother gave it to him he spilled it. Froggy's mom read him a bedtime story but she was the one that fell asleep. Finally Froggy fell asleep too.
Our favorite part is when Froggy spilled the water on the rug because it made us laugh. We like Froggy the best because he loses a lot of toys like we do. We like to ask our moms to do many things and sometimes we spill water on the rug too. The pictures helped tell the story.
We think others should read this book because it is very interesting and it tells you that you need to be responsible for your own things.