The Twits
Written by Roald Dahl
Reviewed by Brynn H. (age 10)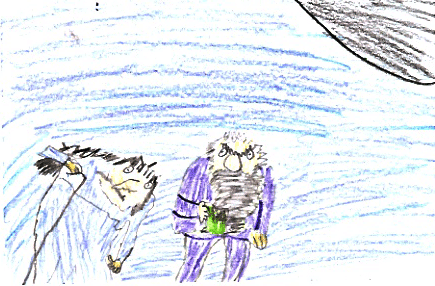 How do you outwit a twit? Mr. and Mrs. Twit are the meanest, smelliest, ugliest people on earth! They live in a fantasy world where nice battles against evil. The Twits hate fun. The only thing that is fun to them is gluing each other's hair to a pillow. They threaten their monkeys, the Muggle-wumps, making them stand on their heads all day. They catch innocent birds to put in their bird pies. But the Muggle-wumps have had enough! They don't just want to escape, they want revenge!
I like this book because it was funny. The best part was when the Muggle-wumps and the birds glued the Twits entire house. When the Twits walked in they got stuck, and if they put their hand on something their hands got stuck, too. My favorite character in the book was Mrs. Twit because she always had a mean answer no matter what anybody said. This book was like the Magic Finger by the same author. In both books birds are important characters. It, too, was funny and I liked it very much.
I recommend this book to 2nd and 3rd graders who like to read humorous books.