The Ghost of Fossil Glen
Written by Cynthia DeFelice
Reviewed by Kylie F. (age 10)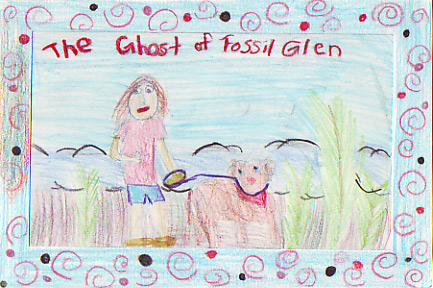 This book is about an 11 year old girl named Allie, who's fossil hunting in Fossil Glen. She gets stuck on the cliff when she hears a small voice in the back of her head sounding so familiar but she can't identify the voice. It tells her to go for it, reach for the branch and do it. After she gets back home she immediately calls one of her two best friends, Karen and Pam. Karen tells her that she and Pam have talked about it and came up with an idea. They think Allie, having a very vivid imagination, is lying too much. This hurts Allie so much that she never wants to talk to them again. She calls her friend, Dub, who listens carefully and helps her through her journey with the ghost!
I learned from this story that it is so important to do what you think is right, because in this story Allie knows her friends are wrong and she wants to find out why the ghost is giving HER all the clues. In the end, Allie finds out the mystery behind The Ghost of Fossil Glen.
I really enjoyed this book because it told about a real girl's life and described how a ghost came to her to solve what the mystery was behind Lucy Stiles' death. I also noticed how the main character changed during the story. In the beginning of the story she was unpopular and was having a bad life. For one thing, her friends didn't want to be her friends anymore, and her parents didn't believe her when she told them how she heard the voice on the cliff. I also felt as if I was there with Allie and Dub, too. The author described the details so well! This book reminds me of when you think you hear something or see something and then leave it alone, but in this story, Allie is determined to find out why weird things happens to her more often. This story really shows how brave one person can be, and how one person can help people who need it the most.
I recommend this book for people who love a good mystery because there are so many mysteries going on at one time. I would definitely call it a page turner!! The author really leaves you hanging at some parts and it makes you want to read more!! I would NOT recommend it to people who don't like to read because it's so good that you really want to find out what happens next!!!