The Boys Start the War
Written by Phyllis Reynolds Naylor
Reviewed by Ginny M. (age 10) & Hannah S. (age 10)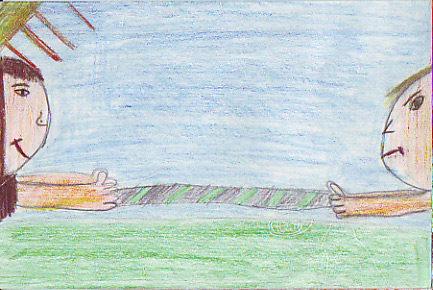 Hilarious comedy will start when the Hatfords declare a practical joke war on the Malloys. The Hatfords consist of Jake and Josh, twins, in sixth grade, Peter, a cheery second grader, and last, but not least, Wally, a rather shy fourth grader. The Malloys include Eddie, a tomboy and baseball player in sixth grade and Beth, a supernatural fan. Then there's Caroline, a precious want-to-be-actress who is in fourth grade with Wally. The Malloys and Hatfords together mean trouble! Mrs. Hatford's chiffon cake getting tossed into the river is just the beginning! A fake death and a fake funeral?? Like we said - trouble!!!
We love this book because of the funny illustrations the author drew on the cover of the book. We also liked reading The Boys Start the War because of the way the author made the characters funny in their own unique way. This book was even more interesting because in the beginning of the book, there is a prologue that grabs your attention. This story reminded us of a neighbor because Jake is a bully sometimes and my neighbor is a bully. They also look alike- brownish hair, blue eyes, and tall.
We recommend this book to both boys and girls around the ages of 8 to 12 because it is funny and about boys and girls who play jokes on each other.