White Fang
Written by Niccolo Machiavelli
Illustrated by Jack London
Reviewed by Amy H. (age 10)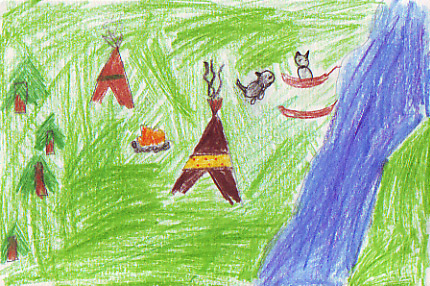 White Fang doesn't have a home, a family, and sometimes not enough food. White Fang is half-dog, half-wolf. He was taken from his mother at birth and brought to an Indian village and trained to be a sled dog. Three years later he and his master, Gray Beaver, go to hunt for gold in a mining camp. There a mean man slashes Gray Beaver's sled and trades them a new sled for White Fang. The man, Beauty Smith, beats and hurts White Fang. Then he forces White Fang to fight other dogs. At one fight a man buys White Fang and takes him home to California. Read this book to find out how his life changes and what big surprises await him.
I think the book is sad because White Fang is taken from his mom, but has its share of happy moments. I love Jack London's books because they are full of good details. White Fang reminds me of all my pets' personalities put together. My favorite part is the end when White Fang is accepted by the farm collie. I think White Fang changed and learned to love his master.
I recommend the book to people who like seeing how the saddest things can improve and to people who like dogs and nature.