Becoming Naomi Leon
Written by Pam Ryan
Reviewed by Alicia G. (age 11)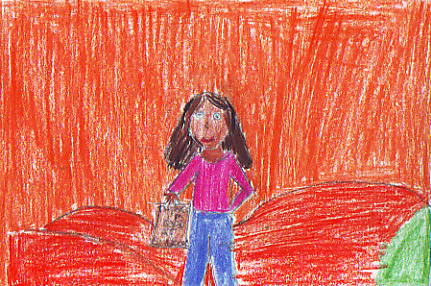 "I can't go! I belong here with Gram and Owen and Baby Beluga, Fabiola, and Bernardo", Naomi whispered. "You'll listen to your mother, young kiddy!" Skyla shouted, striking Naomi's cheek with surprising force.
Before her mother came back, Naomi Leon's life was pretty normal. She lived with Gram, and her brother Owen. She wore home-made polyester clothes, courtesy of her Gram, and she went to Buena Vista Elementary School. She was a shy girl who loved to carve soap. Until one ordinary day, a stranger who claimed to be her mother came along. Her mother, Skyla, was an alcoholic who was abusive. It was the same mother who left the 3 year old Naomi and infant Owen in an apartment building in Mexico. Her mother showered her with gifts galore and everything was fine and dandy, until the unthinkable happened. What did Skyla do? What happened to Naomi and Owen? All your questions will be answered in Becoming Naomi Leon by Pam Munoz Ryan. This book will leave you satisfied beyond belief!
I love this heartwarming novel because it is about ties, no matter how odd they are. The relationship between Naomi and Owen reminds me of me and my little sister because Naomi looks out for her little brother. My absolute favorite character would have to be Naomi, because she is entirely unique and in her whole person. Owen reminds me of my older sister because she likes to do her own thing, and to her it's ok to be weird. This book is set in many different places and they are all so beautiful.
I would recommend this book to any reader from age 8 to 99 because it shows the importance of family. This is one of the best books I ever read!