Arthur's Baby
Written by Marc Brown
Illustrated by Marc Brown
Reviewed by Jessica C. (age 7) & Victoria D. (age 8)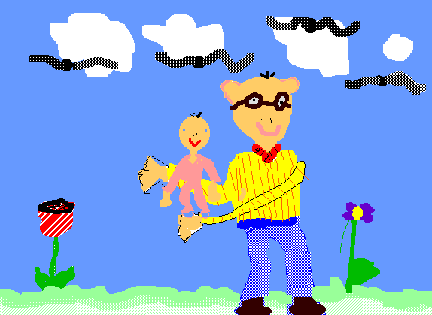 "Yippee! Yippee!" Arthur?s parents had a surprise. They were going to have a baby! Arthur had a mysterious look on his face when he heard the news. Arthur?s friends had a lot of advice for him. "I think babies are taking over the world", said Arthur. One day after school DW grabbed Arthur?s arm and wanted to teach Arthur to change a diaper. After that DW and Arthur?s mom showed them a baby photo album of Arthur and DW. They were surprised by how adorable they were as babies. This book will touch your heart if you have a baby of your own! We think the wrting and illustrations are excellent! We also think if you like Arthur books, then you will love this one! I, Jessica like the part when they go to the hospital to see baby Kate. Dad says, "She has your nose Arthur. So Arthur says, "I think she has DW?s mouth. I, Victoria like the part when DW says, "Those presents are not for you, they are for baby Kate." Our favorite characters are Buster, DW, Arthur, Francine, and Muffy.
We think the illustrations are awesome because Marc Brown put the "wa, wa, wa,wa" coming out from the cute gray baby carriage. It was so hysterical... that we think this is our favorite book!
We recommend this excellent book to children or parents everywhere who likes or loves or has a baby. We also recommend this book to people that want a baby of their own but can?t have one. So when those people read this book it will give them a little clue of having babies. We both agree that Marc Brown is a very talented writer!