Harry Potter and The Goblet of Fire
Written by J.K. Rowling
Illustrated by Mary GrandPre
Reviewed by Jacob M. (age 10) & Ryan K. (age 10)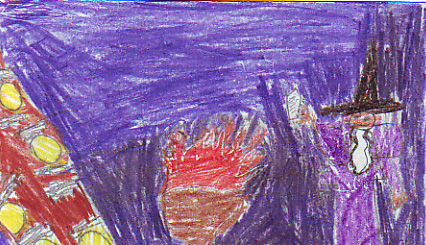 Have you ever been chased by a dragon? If you haven't, and want some tips on what to do if you ever are, read this book! It's Harry's fourth year at Hogwarts, but that doesn't means that things are getting easier. Someone mysteriously enters Harry in the Triwizard Tournament, although Harry doesn't want any part of it. This leaves Harry and his best friends, Ron and Hermione baffled. During the tournament tasks, swimming, dragon fighting and maze solving, dangerous events take place. When Harry and another contestant are transported to a graveyard, you wonder if everyone will survive!
We loved the excitement in this book because it makes the adrenaline pump through us! This book is great because you are always thinking that Harry will not complete the task at hand. Our favorite part is in the maze when Harry and Cedric work against Krum because we never thought that the Cruciatus curse would ever be used! We find this book interesting because we learned about charms, spells, potions and curses.
We recommend this book to anyone ten or older who loves fantasy, action and adventure.