Harry Potter and the Order of the Phoenix
Written by J.K. Rowling
Illustrated by Mary GrandPre
Reviewed by Dino M. (age 10)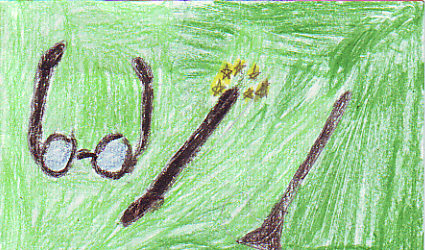 Have you ever imagined casting spells and flying on a broom? Harry Potter is a young wizard going into his 5th year at a school for wizards called Hogwarts. Before his fifth year begins Harry confronts some Dementors, the dark creatures that suck all of the happiness and joy out of people. He has disturbing dreams about a dark hallway with a locked door and goes to the secret headquarters of the Order of the Phoenix to find answers. Worst of all, Harry must battle Lord Voldimort who wants to destroy him. Will Harry survive the vicious battle?
I like Harry Potter and the Order of the Phoenix because it is exciting and left me wondering what will happen next. It was fun to try to figure out what all the events mean. I enjoyed all the suspense which leads to frightening moments. I also like this book because at the end it lets you know that it leads to another book.
I recommend this book to young adult readers. It has action, exiting parts, and cliff hanging suspense. Most of all, J.K. Rowling is a great writer.