The Two Princesses of Bamarre
Written by Gail Carson Levine
Reviewed by Catherine V. (age 10)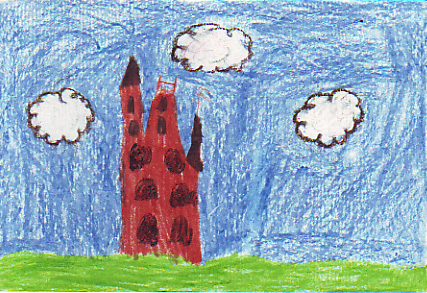 Can a young princess save her kingdom by finding a cure for the "gray death"? "The Two Princesses of Bamarre" show us how much courage we have when someone we love needs our help. Two sisters, enjoying a happy life as princesses, lose their mother to a terrible disease, called the "gray death". The hardships continue, when in the middle of giving a speech, Princess Meryl gets terribly sick. She, too, has the "gray death". Princess Addie decides that she needs to find the cure to save her sister, and perhaps the whole kingdom. Along the way she battles dragons and ogres, and never gives up.
I enjoyed reading this book because it wasn't a typical "princess fantasy", where the prince saves the princess. Instead the princess must save her sister, and in turn, she saves the kingdom. She proves to herself, and the reader, that she can be strong and brave when she has to be. My favorite part of the story was when Princess Addie was captured by Vollys, the oldest dragon in Bamarre, and she escaped! Gail Carson Levine has written other fantasy books (like "Ella Enchanted") which have a main character that is a young girl who finds her strength and courage when faced with a challenge. This was an exciting story to read, and made me feel like I could be stronger and braver than I think I am.
I would recommend this book to kids ages 10 and up, who enjoy fantasy stories about kingdoms, dragons and brave princesses.