Arthur's Baby
Written by Marc Brown
Illustrated by Marc Brown
Reviewed by Lujaine F. (age 6)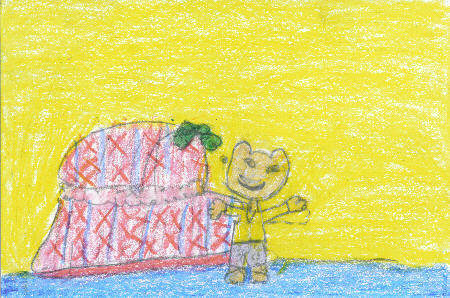 Arthur's parents tell him that they are going to have a baby. Arthur and D.W. are very excited. Arthur's friends tell him that he won't sleep and he'll have to babysit. He will have to change diapers and he will start talking baby talk. Arthur is very worried about changing diapers! Arthur's mother has the baby and it is a girl, named Kate. Arthur is worried because he hopes his new baby sister will not be like D.W. Arthur's mother asks Arthur to babsit. But D.W. says she will do it. But the baby starts crying andD.W. can't make her stop crying. D.W. asks Arthur to help her. What will Arthur do to make the baby stop crying? How can Arthur help? Read this book to find out what Arthur does.
I liked this book because Kate was so cute and so sweet. This is a good book for kids to read who have a baby in the family. They will be able to understand what Arthur and D.W. are going through.
The part that I liked the best is the ending of the story because Kate loves Arthur and he helped her stop crying by burping her.
I felt happy as I read this book. I thought about how hard it was to take care of a baby. Arthur helping Kate made me feel so good, because at first Arthur was scared to take care of Kate.
I recommend this book because it will make you happy. Kate is a cute baby, too. Kids will like to read this story because the characters are animals, who are like kids, and they talk!