Horrible Harry and the Dungeon
Written by Suzy Kline
Illustrated by Frank Remkiewicz
Reviewed by Dylan F. (age 8) & Luis C. (age 8)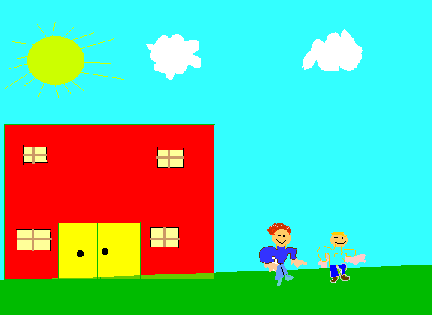 One morning the principal says over the intercom,"If you don?t follow the rules you will go to the suspension room." Harry and Doug want to see what the suspension room looks like. When Song Lee gets in trouble, Harry takes the blame. He goes to the suspension room. Harry thinks the suspension room, which he calls the dungeon is like jail. I, Dylan think the book has very good illustrations. I like when Harry comes back from the bathroom and he?s frozen. The pictures are funny too. I like when Doug is thinking about what is happening to Harry. This book reminds me of when I get in trouble like Harry. My favorite character in this book is Mr. Skooghammer. He is my favorite character because he is nice, cool, and he plays games with the kids in the suspension room if they get all of their work done in time.
It reminds me, Luis, of when I get in trouble because Harry gets in trouble a lot too. When Harry is playing pool on his desk, it reminds me of when I play pool at home. The part with the butterflies reminds me of when I had pet geckos over the summer.
This book would be good for kids from 5 years old to 10 years old. If you like books with mysteries and books with special endings you should read this book.