The Berenstain Bears' Comic Valentine
Written by Stan & Jan Berenstain
Illustrated by Stan and Jan Berenstain
Reviewed by Maarya A. (age 7)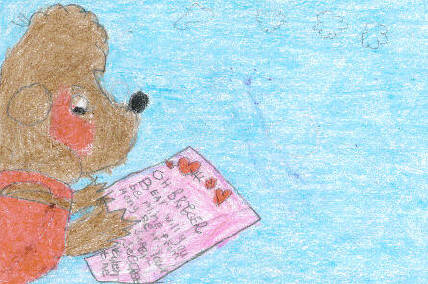 This book is about Brother Bear getting notes from a secret admirer. Sister Bear is teasing him because he is getting a crush from a girl. But he doesn't know who she is. At first, Brother Bear does not like getting valentines from a girl, but he gets four and he changes his mind about having a secret admirer. Brother Bear plays ice hockey in this story, too. During the game, Brother Bear thinks the girl sending the valentines is Charlene, and he begins to like her. But he changes his mind when Charlene only likes him when his team is winning the game. So he knows that she is not the one sending him all of those valentines. But who can it be? Brother Bear does have a secret admirier and you will have to read the story to find out!
I like the part when Sister Bear teases Brother Bear about getting valentines and when he has a crush on a girl and someone has a crush on him.
Brother Bear changed in the story because at first he didn't want a crush, but then he changed his mind and decided it's ok for a girl to have a crush on him.
The pictures are good and coloful. The illustrator drew with a pencil and used water color paints to color with. He used white, green, pink, blue, brown, and red.
I would recommend this book because 1st and 2nd graders will think it is funny and it makes you wonder who the valentines are from. Someone who is in love with someone else and is getting secret admirer notes will enjoy this book, too. Kids who like to play ice hockey will also like to read this book because it shows pictures of Brother Bear playing ice hockey in the story.