The Mouse and the Motorcycle
Written by Beverly Cleary
Illustrated by Louis Darling
Reviewed by Greg B. (age 11)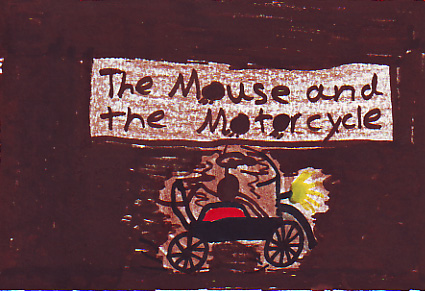 Squeak, squeak. In room 215, in the Mountain View Inn, a mouse ventures up a telephone cord and onto a motorcycle. He starts to ride the chrome-plated, shiny beauty, and before you know it, he's in the trash can. This is a book about a mouse named Ralph who gets a motorcycle from a boy named Keith. Keith is staying in a cozy place named Mountain View Inn. Ralph's mom says that he has to have a helmet to ride the motorcycle. A few months later, it is Ralph's birthday and he gets a crash helmet from Keith. So, now he can ride his motorcycle. But, in the meantime, Ralph loses his motorcycle in the clothes hamper. Will Ralph ever get a chance to ride his motorcycle again?
My favorite part was when Ralph gets stuck in the clothes hamper because it was funny. There are two other books in the series called Ralph S. Mouse and Runaway Ralph. These books are very similar because they have some action and a lot of suspense. I wondered what would happen next. Keith reminded me of my friend Ryan because he caught a mouse once. This book made me feel happy, sad and scared. I felt scared when Ralph was in the clothes hamper and had a narrow escape.
I recommend this book for children ages 8-14 and animal lovers, especially those who love mice and cats. There are a ton of mice and cats in this book. I felt like I was actually watching it happen. I really enjoyed this book.