A Wrinkle in Time
Written by Madeline L'Engle
Illustrated by Cliff Nielson
Reviewed by Ryan C. (age 10)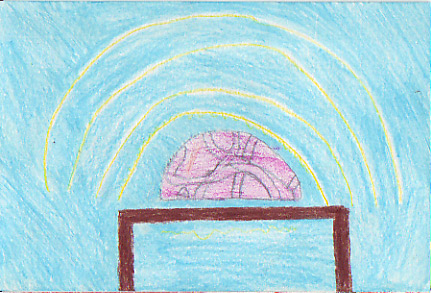 "It was a dark and stormy night." Meg Murry was in her bed, terrified of the hurricane-like rainstorm. Someone pounded at the front door. Meg couldn't move; there was a burglar announced on the news tonight.
As the story develops, Meg Murry and her brother, Charles Wallace, go on an epic adventure in this heart-pounding book to find their lost father. They travel to several thrilling planets, including Camazotz, the rhythmic home of IT, and a world occupied by wookie-like beings. They accomplish this by tessering, the art of going from one place to another using something like a portal. The focus of the story is good fighting evil. Read this story to find out which one prevails.
From centaur-like creatures to giant brains, this book is guaranteed to thrill you with the electric excitement that I've experienced from cover to cover. My favorite part is when Meg and Charles end up in Camozotz because everything is so dull and strict; it was interesting. I think that Charles Wallace is most like my friend, Tommy, because they always seem to know everything that I don't. A Wrinkle in Time is one of the best science-fiction books I have read because of the colorful descriptions and plentiful nonstop action.
I would rate this book five stars. I recommend this book to anyone who enjoys fiction and adventure. Whether you're 9 or even 90, I guarantee that this book is sure to entertain you.