Dreadful Sorry
Written by Kathryn Reiss
Reviewed by Sierra G. (age 11)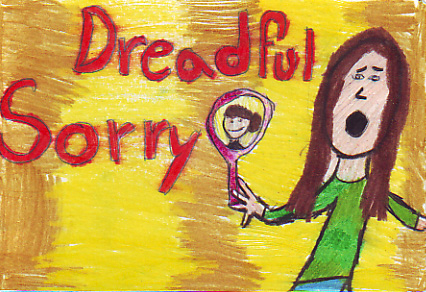 "I know it's impossible, but I'm floating down the hall." Molly Teague is a straight "A" student at West River Academy and a completely normal teenager despite her phobia of water -- or so she thinks. Waking up every morning after the same terrible dream, Molly is frantic and, according to some people, even going crazy! Molly heads for a relaxing stay at her father's house in Maine. But lying right near the bay and on the brink of danger, this "vacation" is not what it seems. Not usually one to poke around, Molly finds this an exception as she digs deeper and deeper in the the house's dreadful past. She discovers a desperate girl, a dying aunt, a purple-faced uncle and a deadly escape -- all leading up to a gruesome end to a false love. Helped by a a crazy old man, a once-despised cousin and her own sense of déjá vu, Molly pieces together a gripping past and reconstructs a romance never had in this chilling novel of reincarnation, a fatal past and a newfound love.
This book is exciting and keeps you on the edge of your seat until the very end. As mysteries unfold, there is always a twist to what Molly thinks is a way out. Nothing is safe. Not even your own reflection. Personalities twist and turn as reincarnated ghosts finish their unsettled busines with unsettling reflections and possession. There is just no other book like "Dreadful Sorry" -- even two months after reading it my heart is still pounding to the same beat as Molly's.
I recommend this book to strong, mature readers, age 9 plus, of ghost stories, romances and mysteries. There are many in this book.