The Lightning Thief
Written by Rick Riordan
Reviewed by Ryan S. (age 11)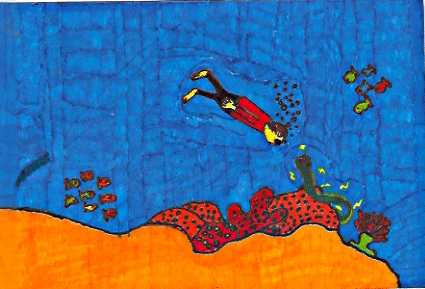 What would you do if your life and the fate of the world were in your hands? Where would you go if you had to search across the United States to find a thief who had stolen a weapon that had the power of over 5,000 nuclear bombs? This is the question ten year old Percy Jackson has to face when he finds out he is the son of a Greek god. But when Zeus' master bolt is stolen, Percy is the most likely suspect. Percy has to find it with the aid of a magical satyr and another demi God. As they travel across the country in search of the thief, they have to face an armada of mythological monsters. They have a small chance of succeeding, but an even smaller chance of survival.
I enjoyed The Lightning Thief because of the large amount of suspense. The author ended every chapter with a cliffhanger. I found this book very interesting via the mythic creatures and supernatural powers. It added a twist to this book. I especially liked the part where Percy rode the ferry to the underworld on the River Styx. This book was also very adventurous because the characters traveled all across the United States visiting many scenic places.
I recommend The Lightning Thief to anyone who is interested in mythology, adventure, or suspense. It is appropriate for children nine and up, because there are some sword and bow and arrow attack scenes. Also, anyone who enjoyed this book should read the sequel, The Sea Of Monsters.