Turtle and Snake's Day at the Beach
Written by Kate Spohn
Illustrated by Kate Spohn
Reviewed by Joshua H. (age 6)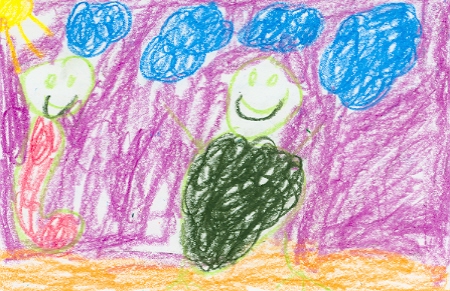 This story is about a Turtle and a Snake that went to the beach and entered a sand castle building contest. They built a sand castle and went to get on a wave. When they came back, they didn?t see their sand castle. So, they built a second sand castle. The snake was hot and they went to get ice cream. When they came back, the second sand castle was ruined because of a wave. And then a cat and a dog said, ?Don?t worry we will help you build another sand castle!? Then they built a third sand castle. When they were done they won a prize for what they did.
I liked the story because they built three sand castles and I like sand castles even though I haven?t built a sand castle. I liked that the snake ate ice cream because I like rainbow ice cream. I liked the story because it reminded me of Coney Island and all the rides my family and I went on like the motorcycles and the Spiderman car. I also liked that they won a prize because I have won a prize for running in the gym.
I recommend the book because it is easy to read for first graders. Second graders can also read this book, but it might be too easy for them. I would recommend this book to my twin brother because it is easy and my mom will kiss him when he is done. I think this is the kind of book that you should buy because you will love it forever.