Arthur Babysits
Written by Marc Brown
Reviewed by Christian N. (age 6) & Jolyon H. (age 6)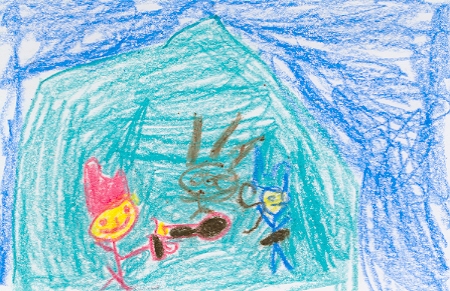 We read about Arthur babysitting two brothers who are twins. Every time D.W. is calling on the phone and he said if it was okay. Arthur was saying it was okay when he was babysitting. The twins wanted to play cowboy but then they changed to cards. They were having a lot of fun when they were playing cards. Arthur was calling D.W. to see if she was okay. After that, Arthur told them a story and the twins were scared. The story was about a monster that went out to look for food, and the swamp couldn?t move because the swamp was a monster. He especially like boys, especially twin boys for dinner, and the monster was going to eat the twins. The mother came back and then the twins thought that was the monster. But it was their mother. They were happy to see their mother instead of the monster. Babysitting, said Arthur, was a lot of fun. Now that DW knows all about babysitting she can help.
Jolyon liked the book because it was fun. He liked when the twins were scared when someone came in and it was the monster. Christian liked when the monster came in. Christian liked the picture when the monster and the twins were scared. Jolyon liked when the twins covered their eyes when they thought it was the monster. The story reminds Jolyon of when someone turns off the lights and he was scared.
Jolyon recommends this book to his dad because it is kind of easy for grownups. It is even easy for my brother because he likes Arthur and we watch Arthur together at home on the couch. Christian recommends this book because it is funny and nice. Also, the pictures make sense.