Egypt Game
Written by Zilpha Keatley Snyder
Illustrated by Alton Raible
Reviewed by April P. (age 11)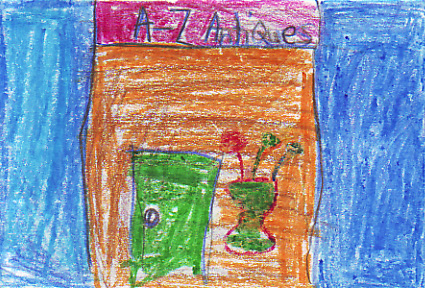 Egyptians. Gods. Ceremonies. This is a story about a group of kids named Marshall, Melanie, April, Toby, Elisabeth and Ken, that make up a game called the Egypt Game. Everyday the kids meet up and prepare many rituals and sacrifices to the gods. Marshall has an octopus named Security and he is now missing. The octopus is very special to Marshall because he keeps him safe. Toby finds Security under the God of Evil. Toby is now captured by a fugitive. Will the game be a success or will it end up in a mess?
I liked this book for the main character is my name, April. I liked this book because the author includes a lot of suspense. I liked this book because this is a group of six kids in 6th grade and they are in the same grade as me. I felt like I was a part of the story because the author described the setting a lot.
I recommend this book to anyone who likes lots of description. This book is good for fifth and sixth graders because there are a lot of hard words and a lot of pages.