The Cricket in Times Square
Written by George Selden
Illustrated by ?Garth Williams
Reviewed by Joey A. (age 11)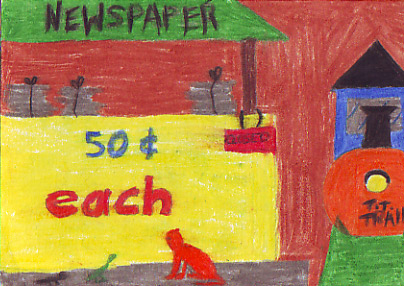 "Ouch!", screamed Chester, the cricket, as he fell into the picnic basket. This is a story about a cricket that gets stuck in a picnic basket while eating his food. The basket gets shipped on a train to New York. When the train came to a stop, they took the basket out and left it on the ground. A boy finds the basket and opens it. Chester jumps into the boy's hand. Have you ever been able to hold a cricket in your hand? What do you think the boy does with Chester?
The main character, Chester, reminds me of me because I love to be wild by jumping all over the place. I felt really happy knowing that Chester would get over being lonely. My favorite part in the story is when they were playing tricks on the humans. This book reminds me of another book called Gregor and the Overlander because the main character gets trapped.
I think you should read this book because of the beautiful illustrations and the action. It will make you feel like you're a part of the book.