Frindle
Written by Andrew Clements
Illustrated by Brian Selznick
Reviewed by Emily F. (age 10)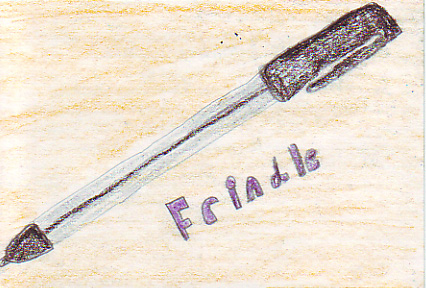 Do you think "frindle" is a word? Well Nick does, but Mrs. Granger doesn't approve! She worships the dictionary and the word "frindle" isn't in it! Nick is starting fifth grade and is a wild trickster. His teacher, Mrs. Granger, is very strict. She squashes all of his plans and gives him extra homework for punishment. Nick starts a "word war" with Mrs. Granger. Will the word "frindle" survive? More important, who will win the "war"?
I like this book because an everyday kid had a creative idea. It shows that you can change things if you work hard and set your mind to it. This book makes me think of my brother because he is always tricking me. This book is full of adventure. I never knew what would happen next. This story had many good illustrations. The pictures really helped me get into the story.
I recommend this book to everyone. It has funny practical jokes, lots of actions and a lot of suspense. You will never know what is going to happen next!