Chrysanthemum
Written by Kevin Henkes
Illustrated by Kevin Henkes
Reviewed by Arushi S. (age 5)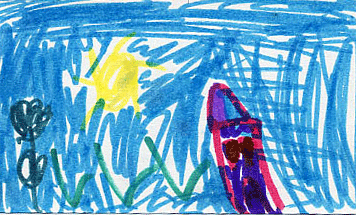 When people made fun of Chrysanthemum she was sad. They made fun of her because she named after a flower. When she would get home from school her mom and dad would hug her. One girl said let's pick her and that wasn't very nice. Chrysanthemum felt sad. She started to feel better when they all found out that their teacher had a flower name, too.
I liked this book because she's named after a flower. My favorite part of the book was when she saw her name on a cake in purple writing because my favorite color is purple. It reminded me of when people tease other people. That makes me feel not really happy when people do that.
I think other kids should read this book because at the ending they want to change their names. I think everyone would like this book because it has good illustrations.