Chrysanthemum
Written by Kevin Henkes
Illustrated by Kevin Henkes
Reviewed by Ananya V. (age 5)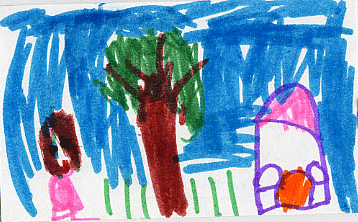 There was a girl named Chrysanthemum and everyday she went to school. Her friends would laugh at her name because her name was so long. And every day when she came back home she was crying. For many, many days that happened. Her parents tried to cheer her up by giving her a favorite dessert. Her friends teased her until they all met a special teacher.
I liked that Chrysanthemum felt better, but I did not like when her friends teased her because that was not nice. We read this book at school because it would help us solve problems and learn how to treat people. We learned to be respectful of people having different names. My favorite character in the story was Chrysanthemum because in the beginning she liked going to school and I do, too.
I recommend that other kids read this book because it's a learning book. It's learning how not to tease people. Everybody would like a book like this because it's a nice story.