Chrysanthemum
Written by Kevin Henkes
Illustrated by Kevin Henkes
Reviewed by Kyahana R. (age 5)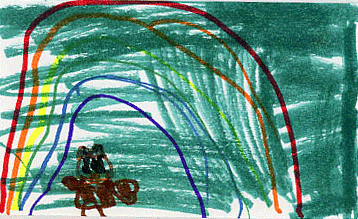 Chrysanthemum is a little mouse that's named after a flower. When the parents first put her in the school her friends were laughing at her name. They were calling her names and being mean to her and hurting their feelings. They were also not letting her play. Then they met their teacher named after a flower.
My favorite part was when there was a rainbow and she was holding an umbrella because she was jumping. I like this book because it has a happy ending. The story makes mw think of when I was 3 years old and my friends were teasing me and I didn't like it.
I recommend that other kids read this book because it shows how to change how you are acting. I think all kids would like this book because they learned that if you are named after a flower it is OK.