The Three Bears (1963)
Written by Margaret Hillert
Illustrated by Irma Wilde
Reviewed by Emily A. (age 6)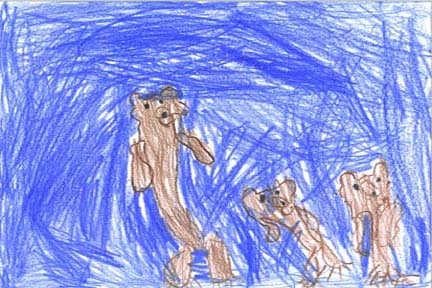 This book is about three bears that go for a walk to let their porridge cook. A little girl goes into their cottage. She eats baby bears food, sits in his chair, and falls asleep in his bed. When the bears come home, they wake the little girl up. What do you think the little girl does at the end of this story?
My favorite part is when baby bear found Goldilocks sleeping in his bed. The baby bear was so surprised to find her. My favorite character is mother bear because she works a lot cooking and making the beds. I like the pictures because not every part of the picture is colored in. Some things are just outlined.
I would recommend this book to little kids because it is a book about a family of bears. Does your family stick together like the bear family?