Be a Perfect Person in Just Three Days
Written by Stephen Manes
Illustrated by Tom Huffman
Reviewed by Kaitlyn K (age 9)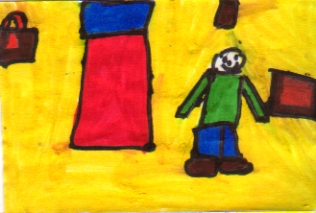 Do you have a sister that bugs you all the time? Milo has a sister that bugs him. It's not that fun. He went to the library. He was looking at books. A book from the top shelf fell on his head. It was called "Be A Perfect Person In Just Three Days." Milo wanted to be perfect. He reads the book and follows the directions. He does odd things like wearing broccoli around his neck. Does Milo become perfect? Read the book to find out.
I like the book because Milo did odd things to become perfect. He forgot that all he needed to do was to be himself and try to do his best. My favorite part was when Milo had to wear the broccoli. That was funny and silly. I tried to picture Milo with the broccoli around his neck. It made me laugh. I don't know what that had to do about being perfect.
My brother reminds me of Milo. I can see my brother wearing broccoli. When my brother has his mind made up to do something, he does it even if it is an odd thing to do. He's like Milo that way.
It makes me wonder if Milo is going to be perfect. I think he would not be perfect because nobody is perfect. It sure was fun to see him try.
I recommend this book to 3rd grade and up. It would be a good book for them.