Tackling Dad
Written by Elizabeth Levy
Reviewed by Paige B (age 9)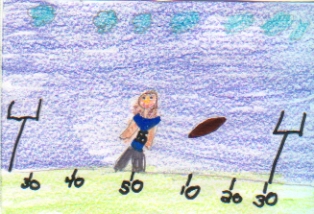 Do you want to know about a girl who plays football? Cassie loves playing football on the girls' football team for fun. Cassie's mom and dad are divorced. Cassie and her dad play football. She tries to catch the ball but misses the football and gets a black eye. Cassie asked her mom and dad if she can play football in school. They say no. Cassie keeps bugging her mom and dad until they say, "Yes." They told her not to get hurt. So she and her friend sign up. They both try out for the team and make it. Read this book to find out how they played, if they got hurt, and how many games they won.
My favorite part was when Cassie and Molly made the team. I thought they wouldn't. Once they made it, they didn't know how to put on the uniform. I thought that was funny.
I found Cassie very interesting because she plays football. Not a lot of girls play football. She is very good at football. She gets mad when they loose their games. The author is Elizabeth Levy and she is learning how to play football too! I felt very excited for Cassie to be on the team. I couldn't believe when she made the football team. I haven't heard of too many girls playing on a real football team. It is always thought of as a boys' sport. Cassie made me think that a girl can play football and do anything they want to. Cassie reminds me of me. I like to play football at school also. If I had to put on the football uniform like Cassie and Molly, I wouldn't have known how to do it either. I recommend this book to 4th through 6th grade and especially to girls who like to play sports, especially football. I know that I enjoyed the book and I know others will, too.