Stellaluna
Written by Janell Cannon
Illustrated by Janell Cannon
Reviewed by Nitesh T. (age 8) & Maxwell F. (age 8)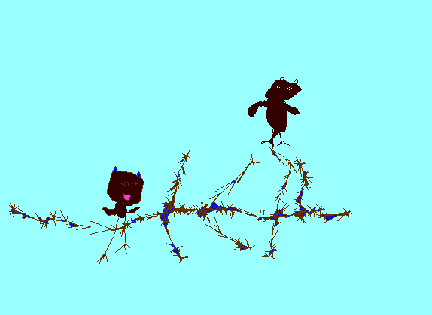 Stellaluna grew up living like a bird, but her mother was a bat. She fell into some branches because an owl struck at her mother again and again. So Stellaluna grew up living with three birds. She learned to stand up on her thumbs. One day a group of bats see her hanging by her thumbs. Stellaluna think the other bats are upside down because she lived like birds lived. If we were bats we would not eat what Stellaluna ate. She ate what birds ate. Then one day Stellaluna finds her mother. If you like bat books you should read this book.
We like this book because the illustrations were the best we've ever seen because they were hilarious. It is funny because it made us laugh. It was funny because Stellaluna was spinning around on a branch with the birds. We like the mother bird because she was strict. We like the illustrator's pictures because she added details and background.
Max: My favorite part was when Stellaluna said, "I can't fly in the dark" which she could actually do. This book reminds me of Halloween because Stellaluna is a bat.
Nitesh: It had beautiful pictures. I felt sad because the owl kept striking the mother bat again and again. We felt happy because Stellaluna got back to her mother. It is a funny book and it is very good. I liked the beginning because I like the way Janell Cannon started the first sentence, "In a warm sultry forest far, far away, there once lived a mother fruit bat and her new baby."